Wingfoil Nelson is the home of foiling in the 'Top of the South' and represents an exciting step into the future for New Zealand's oldest yacht club!
With pristine waters on our doorstep, reliable winds and accessible at any tide, it really is your perfect place to learn and enjoy everything this exciting new sport has to offer.
We've moved the lessons information here, but for the shop info and lowdown on the brands that we stock, click here: https://wingfoiling.nelsonyachtclub.org.nz
Wing Lessons - Tasters / Private Tuition
Your first wing lesson will take place with us using the wing on a standup paddle board or windsurf board. This is critical to mastering the wing handling before using the foil. Once competent at this level we will move you onto a smaller board with the a foil.
You can expect 1 – 5hr of this lesson format, dependant on your previous experience (Eg. windsports like windsurfing, sailing, kiting, and other watersports like SUP, surfing, wakeboarding etc…). Some previous students with windsport experience have moved onto the foiling lesson within 20 minutes of touching the wing!
Tasters

$80 for 90 minutes of group tuition (min 2pax)

Private Tuition

$110/hr or $440 for 5 hrs as a non-member
$90/hr or $360 for 5 hrs as an NYC member
Wind Awareness
Wing control
First ride on a low riding board
Controlling speed
Controlling direction
Basic turns
Self rescue techniques
First Flights - private lessons only*
Your first flight lesson will teach how to handle the foil and get those all important first flights.
Using the latest in BBTalkin bluetooth headset technology, our instructors will be able to communicate with you every step of way, regardless of the wind and distance from our coach boat.
It is important that you have a good knowledge of wing handling and board riding to move onto the foiling stage. If you are unsure of where you sit, give us a call! One of our instructors will be delighted to chat you through your progression options.
Private Tuition

$110/hr or $440 for 5 hrs as a non-member
$90/hr or $360 for 5 hrs as an NYC member
*If there are two of you, you can share 2hrs between you, taking turns.
Foil familiarisation
Take off Balance and control
Maintaining flights
Controlling speed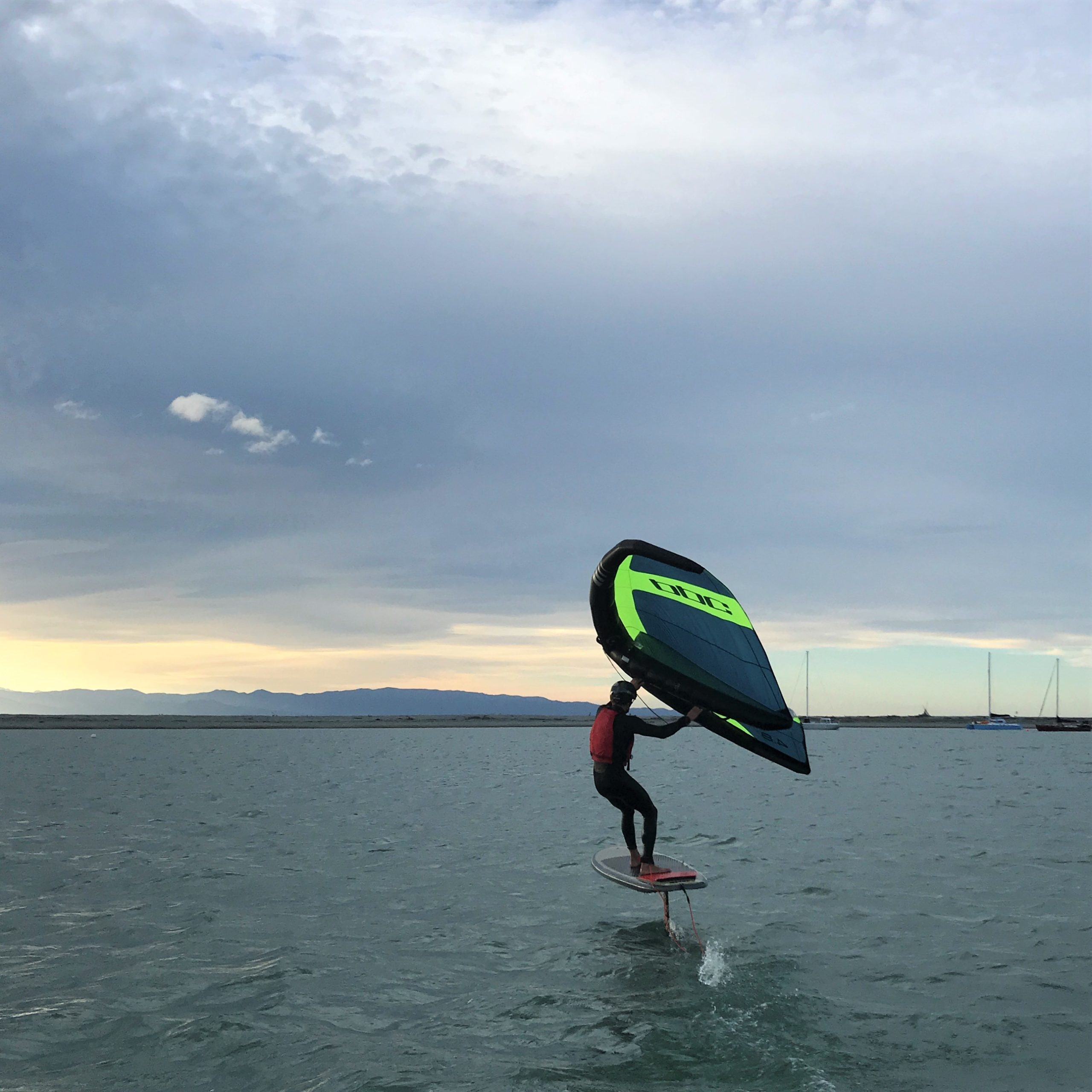 Learn to wingfoil for rangatahi 12-16yrs
As well as the private tuition options, we run a limited programme of groups lessons for youth wingfoiling. Normally we try and schedule a beginner group and a more advanced group each term. Spaces are strictly limited, so make sure you get in quick.
The beginner group will start off on SUP / windsurf boards and small wings, normally 1-between-2, until students are competently winging around and maintaining their position in the sailing area.
First flight sessions will see the group taking it in turns on one set of equipment, with the instructor very gradually adding additional sets as students progress.