Learn to sail, or progress your skills with Nelson Yacht Club's Sailing School this summer!
Our awesome team will introduce you to the sport of sailing in a fun and supportive learning environment. Courses and training are based on guidelines set out by Yachting New Zealand.
We organise regular Tasters, Learn to Sail courses, and progressive training, for both adults and children. There are also supervised sailing sessions, and informal racing, where you can put your newfound skills into practice.
We offer groups for different ability levels at all ages:
Students will be introduced to the marine environment safely and learn how to stay safe on, in and around the water.
They'll have heaps of fun learning the essential skills for sailing a small boat, plus capsizing, swimming, loads of games, races, and adventures.
Generally two sailors paired-up in an Optimist or a Topaz Uno.
It is rare for sailors to achieve their YNZ Level 1 after a single week or term.
This group is for those who have done some sailing in a small boat, but who have not yet completed the YNZ Level 1 Certificate.
The group focuses on fun and building confidence as well as working towards the Level 1.
Progressing to sailing solo in Optimists (Junior) or sailing effectively as helm or crew in Topaz Unos.
Designed for those who have already done quite a bit of sailing in an Optimist or Topaz Uno, have achieved their Level 1.
Optimist sailors must be comfortable sailing solo.
Working on skills that are part of the YNZ "Sailing….Fast" or Level 2 syllabus.
It can take a bit longer to achieve the Level 2 certificate, so sailors might be in this group for a few weeks / terms before reaching the required level.
Adult sailors will use the RS Fevas, and try sailing with gennakers.
Sailing in either a club boat or their own boat, these sailors can handle themselves around a course in moderate conditions.
Development of seamanship skills
Youth sailors may use the RS Fevas and explore sailing with gennakers.
Learning to race!
*NB. These guidelines are not set in stone, and there will be occasions where we may amalgamate groups to ensure viability, or where younger experienced sailors may be able to join a Topaz/Feva group.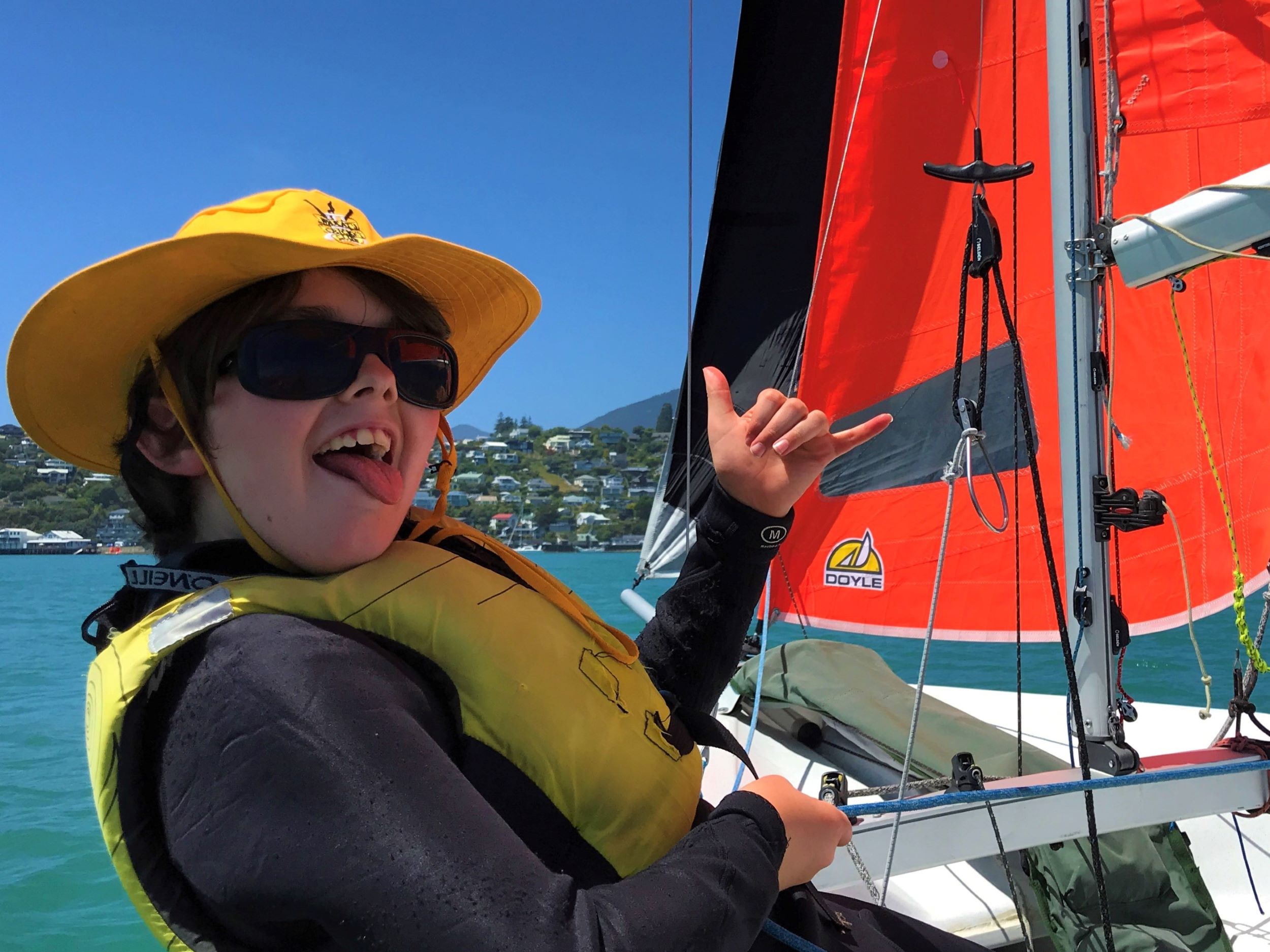 Learn to sail for tamariki 8-11yrs
Taught in plastic self-draining Optimist-like training dinghies.
Beginners – typically two to a boat
Improvers – starting to sail solo
Intermediates – solo sailing
Advanced sailors progress to own-boat fibreglass Optimists and Green Fleet racing, or outgrow the boats and move into Topaz Unos / RS Fevas.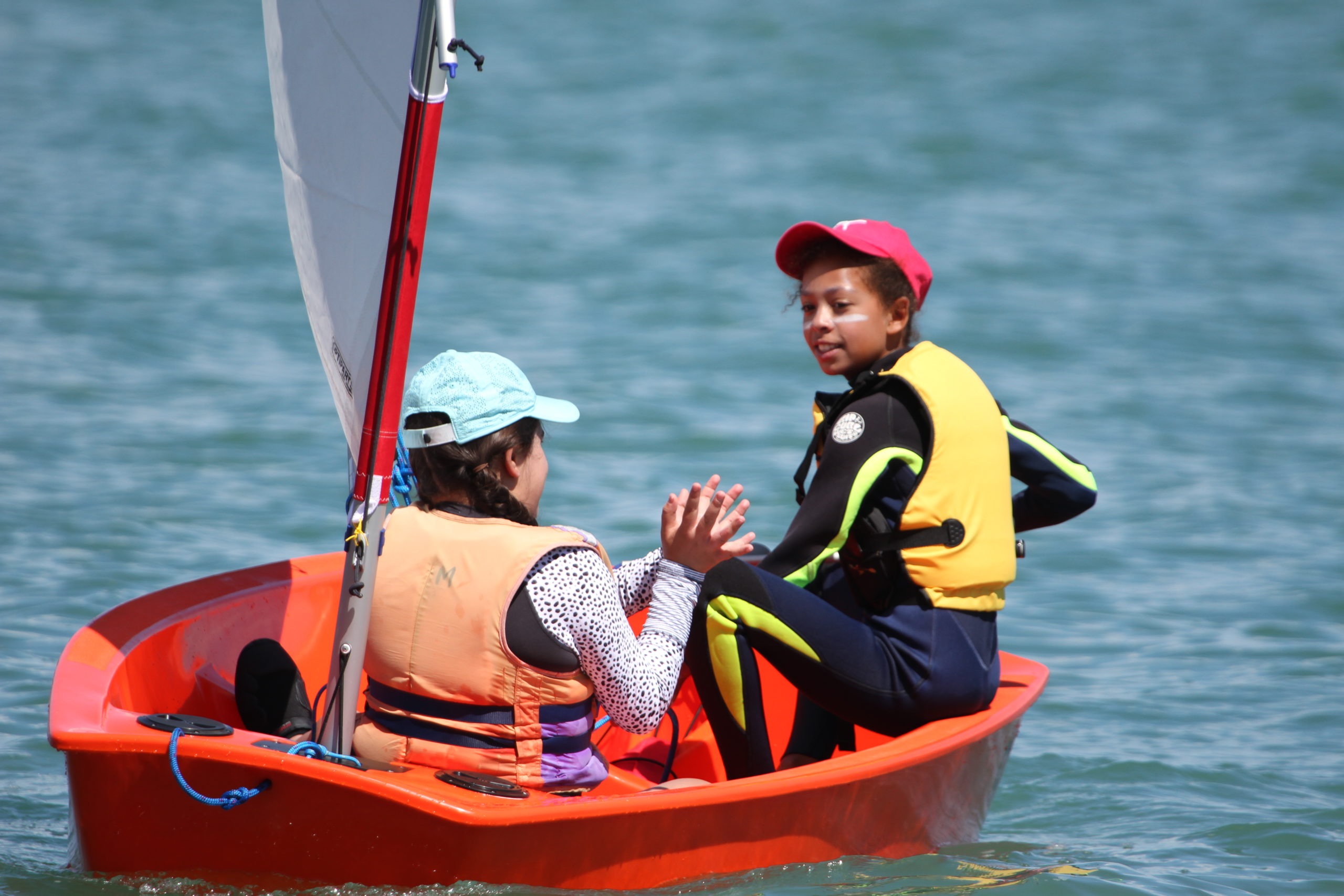 Learn to sail for rangatahi 11-16yrs
Taught in plastic self-draining Topaz Uno dinghies. Typically two to a boat.
Beginners / Improvers / Intermediates
Advanced sailors join Green Fleet racing, then into Open Fleet racing:
Single-handed progression > Starlings, ILCA 6
Double-handed progression > RS Feva, 29er Skiff,
Alternatives progressions: 420 Team Racing, Windsurfing, Wingfoiling
Learn to sail for adults
Taught in plastic self-draining Topaz Uno dinghies. One person per boat, in a group of up to 6 students.
Intermediate groups use the RS Fevas, and Omega, with two people per boat.
We offer weekend courses, terms of weekly evening classes, private tuition, supervised hire, informal twilight racing, and progression into club racing.
As part of our women and girls strategy we run a "Wāhine on Water" Monday, and a couple of women specific events during the season.